About Elaine's Florist and Gift Baskets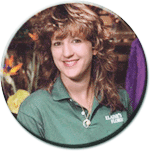 Elaine Oulsey-Nevarez has always been a lover of flowers.
That passion for Mother Nature's bewitching bouquets has inspired Elaine to become one of the most sought-after and respected florists in Houston.
She honed her business savvy in the corporate world. When she found her corporate division was being transferred to Dallas, Elaine felt it was time to put down roots and stay in the city she loved, Houston.
She founded Elaine's Florist and Gift Baskets in Houston in 1992. With a team of experienced and passionate designers, Elaine's flower shop has become one of the city's foremost floral businesses, producing beautiful and long-lasting arrangements.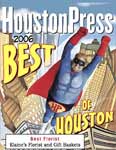 Elaine's is proud to have been voted "Best Florist in Houston" by the Houston Press.
Certified by the State of Texas as a "Woman Owned Business", Elaine's Florist was also nominated as "Woman Business Entrepreneur of the Year" for 1999 and 2001.
Elaine may have her name on the sign, but there is a whole team of talented and dedicated floral designers working to bring you the best in floral aesthetics.
---
Elaine's Favorite Flowers
Many people ask Elaine about her favorite flowers... "I love the more contemporary tropical arrangements.
I have always enjoyed traveling to the islands, and when I see a tropical arrangement it just seems to take my mind away to a beautiful ocean view, white beaches with palm trees swaying in the wind... and let's not forget the Pina Colada!"
Flowers can bring exotic destinations right to your tabletop. Elaine and her team make that happen for every satisfied customer.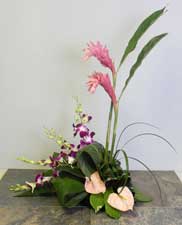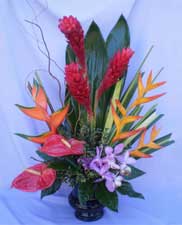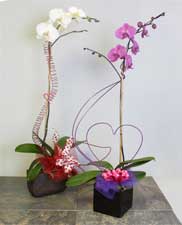 ---
Fresh flowers with a long life
If you have received a flower arrangement from Elaine's, you may have noticed that your blooms stay fresh for a long time.
Before each bouquet leaves the shop, the stems are put into fresh water that is treated with a unique "flower food" that nourishes the flowers and at the same time kills malignant bacteria.
This method helps preserve the freshness, beauty and vitality of the arrangement, allowing longer enjoyment of your brilliant flowers.