Tips to Keep Your Bouquets and Arrangements Looking Fresh
What are the best tips to keep your bouquets and arrangements looking fresh? We're often asked for the tips or tricks we recommend to keep your beautiful flowers looking as fresh as if they were still growing or just cut. Here are a few of the most common tips we follow and recommend to our customers.
First, keep the flowers hydrated. We are conditioned in Houston to know the importance of staying hydrated, particularly in the hotter months, and we know the importance of watering the lawn, garden or flower beds but it's equally important to keep floral arrangements or bouquets hydrated by placing them in fresh water. We advise checking daily and refilling the vase as the water level goes down. It is also a good idea to replace the water entirely if you notice it getting cloudy.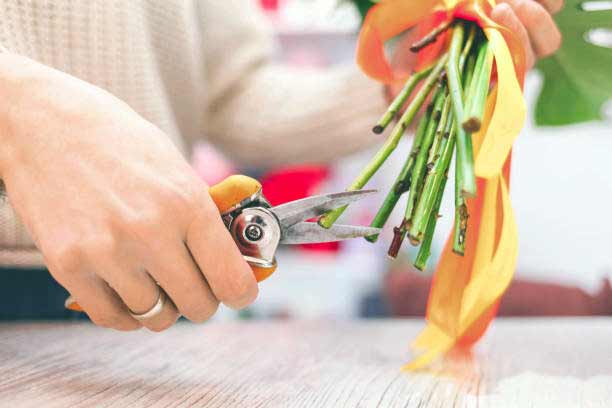 Our second recommendation is to trim the stems of your arrangement or bouquet. Almost immediately after the flowers are harvested, the cut end begins to skim over in an engrained attempt by the flower to stop or slow moisture loss. Unfortunately this defensive action also slows or prevents water absorption so left unaddressed it actually shortens the time your flowers remain vibrant and fresh looking. At Elaine's Florist and Gift Baskets our artisans and floral designers recommend cutting each stem diagonally. This increases the surface area and thereby the possibility of increased absorption. A diagonal cut measuring one half to three quarters of an inch is all you need. And remember to check the stems after a couple of days. An additional fresh cut, just above your initial one may be helpful for extending vitality.
Next remove the leaves from the stem of each flower, particularly longer stemmed flowers such as roses at a minimum to below the fill line of your vase. Aesthetically the trimmed stems often look better and retard the growth of bacteria which will harm the flowers.
Roses and some other flowers also have guard leaves surrounding or at the base of the blossom. These leaves can drain energy from the flower so removing them is beneficial for prolonged life. Additionally with roses the guard leaves can prevent the flower from opening completely so the full beauty and fragrance is limited. We advise you that you remove any guard leaves.
The last tip we'll mention today is to "feed" your flowers. This really means adding a packet of flower food or you can make your own from Alum powder (potassium aluminum sulfate) found in most grocery stores. We recommend dissolving and mixing it in your plant water then "feeding" the flowers every other day. This helps keep your beautiful flowers such as those in our Designer's Choice Bouquets looking fresh longer because it stimulates the flower to draw more water up the stem.
These are just a few of the tips to keep your bouquets and arrangements lasting longer and looking fresher but coincidently following them may help keep the smile our arrangements usually elicit lasting longer too.