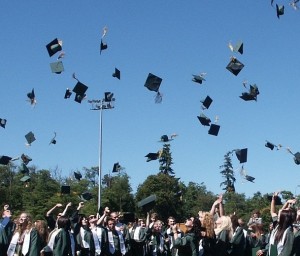 For graduation flowers in Houston, Elaine's Florist & Gift Baskets is the ideal place to go!  As your graduate ends their ceremony and is about to greet their guests, surprise them with a floral arrangement that is sure to make them feel cherished on their special day.

Graduation day is known to be a rite of passage, defined as a ceremony that marks a new phase or status in a person's life.
Graduation ceremonies are full of traditions that have a notable history. As your graduate does their graduation march, you will most likely hear "Pomp and Circumstance," which is the march most commonly used during graduation ceremonies. "Pomp and Circumstance" was composed by Sir Edward Elgar, and it was first played in a graduation when Elgar received an honorary doctorate from Yale University.
Other graduation traditions include tossing graduation hats towards the end of the ceremony; an article for eHow points out that this tradition started when graduates of the Naval Academy in 1912 tossed their caps into the air.
Graduation marks the day when your loved one will take part in the rich traditions of celebrating an important academic milestone. At Elaine's, we want to help celebrate this occasion with a lovely floral arrangement or gift basket. As your loved one transitions from graduand to graduate, help them feel celebrated by greeting them with a floral arrangement as they finish their ceremony. Or, if you are planning a graduation party, surprise them with one of our gift baskets.
If you are searching for Graduation flowers in Houston, contact Elaine's today at 713-661-6788, or visit our location at 4782 Beechnut Houston, Texas 77096. For a list of zipcodes we service to, visit our website. Elaine's is committed to helping you commemorate this special day. To learn more about our top Houston florist, like our Facebook page.