Valentine's Day is an excellent opportunity to show your sweetheart how much you care. Flowers are an essential part of demonstrating someone your love and affection. As Houston florists, we know what floral arrangements make a woman smile and which arrangements flop. Here's some tips for selecting Valentine's Day flowers:
Avoid Grocery Store Flowers
We've all done it before — you don't have enough time to get a quality flower arrangement from a florist so you are stuck going to a grocery store to pick from their limited selection. Unfortunately, nothing says "I completely forgot" like grocery store flowers, and any astute woman will notice the difference immediately. The key is to order flowers early so that you can select the arrangement you like from the flower shop of your choice.
Pick Flowers She Loves
The secret to making an arrangement special is how much your personalize the flower arrangement itself. Do you know what her favorite flowers are? Maybe she likes tulips instead of the traditional rose. Customizing the arrangement with the right Valentine's Day Flowers and adding a note are the secrets to making that arrangement particularly special.
Order Early; Order Local
Ordering early is imperative if you are out of town on Valentine's Day. With the rush of delivery orders, its essential that you place your order early so that you can guarantee that your flowers make it to your darling on the big day!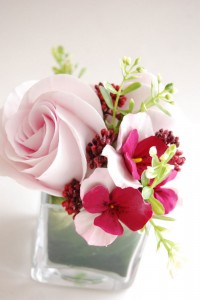 Another insider trick is to avoid those large online chains and order an arrangement from your local Houston flower shop. Large online flower shops, such as Teleflora and FTD, are notorious for failing to deliver arrangements on Valentine's Day. A local flower shop is more capable of turning down an order if they are too booked and they are generally easier to communicate with. Moreover, local flower shops know the city much better than outside shops and can deliver flowers in a more timely fashion.
Not sure what kind of arrangement you should get? Our florists can help you select the right Valentine's Day flowers for your sweetheart. Browse through our online selection, call us at (713) 661-6788, or visit our store to learn more about our selection!