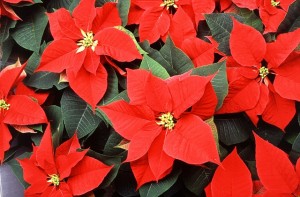 Houston Florist Elaine Ousley is gearing up for the holiday season that starts in late November and ends in January, and she is ready to start creating arrangements for all types of occasions.
Houston offers a wide array of Holiday entertainment and celebrations! The holiday performances in the theater district begin soon and a variety of festivals, concerts, exhibitions, and holiday parties will keep your calendar full. You may have already seen businesses start to put out Christmas decorations and you are beginning to feel the holiday spirit kick in. The weather in Houston this October may have not been the ideal fall weather you were hoping for, but November's weather forecast looks to have much cooler days ideal for outdoor fun.
The beginning of the holiday season also means that you have to start planning for all of the upcoming parties at work and with your family. Although this is a joyous time of the year, it can become stressful because of your decorating, cooking and cleaning responsibilities.
At Elaine's Florist and Gift Baskets, we can help you ace your holiday decorations this year. We are ready to help you choose the ideal flower arrangement to ease the stress of your holiday planning and decorating.  If you're not sure what to gift your coworkers or loved ones this season, let us help you by preparing a beautiful arrangement of flowers that will make them feel special and loved. When you choose our Houston flower shop, you are choosing to work with a very experienced florist with over 23 years of experience and recognition by the Houston Press as the "Best Houston Florist."
For a list of the zip codes we offer delivery to, check out our website. You can also visit us at 4782 Beechnut, Houston, Texas, 77096 or call us for more information at (713) 661-6788. Our top Houston florist, Elaine Ousley, is ready to help you choose the right flower arrangement for your Holiday season.