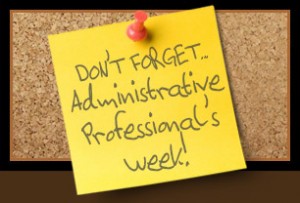 Administrative Professional's Day is just around the corner (next Wednesday, April 23rd), affording you a great opportunity to show your colleagues how much their help means to you. Show those in an administrative position that you appreciate their work by getting them gorgeous Houston flowers. Below are a list of some of our office-friendly Administrative Professionals' Day flowers that will surely brighten up their day!
Admin Day Flowers
Lilies: Filled with fresh colors, this spunky flower comes in a variety of hues. Have a dark pink bloom that fades into white or get bright yellow lilies to celebrate spring. Let us know what your secretary's favorite color is and we'll be able to find a lily that fits the bill!
Lavender: Not only do lavenders smell fantastic, but they are easy on the eyes as well. Your secretary or administrative assistant will smile every time they get a whiff of those blooms.
Daisies: Nothing says spring time like a daisy. They make fantastic filler flowers and can really brighten up a bouquet.
Carnations: These flowers are an innocent way to show you care. Moreover, they add volume to an bouquet.
Great Office-Friendly Plants
Want to give your secretary something that will last a bit longer? Most plants are not cut out for the "cubicle" life, but there are some indoor plants that will brighten up any office space. Oxalis comes in leaves of all colors, but the deep purple leaves are exotic and beautiful. Some oxalis also have little, clover-shaped flowers that bloom in the morning and close at night, providing you with a reminder that its time to go home!!!
Philodendrons also thrive indoors and require practically no maintenance. Their leafy green vines are perfect for front desks and bookcases as they grown long and wild!
However you want to surprise your administrative assistant, the florists at Elaine's Florist and Gift Baskets can help. Contact us today to reserve Administrative Professionals' Day flowers and to request office delivery!