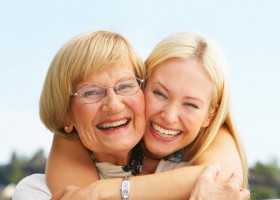 Mother's Day is next Sunday, meaning its time to start thinking about what you are going to get the mom in your life. While gifts are great, surprises are even better. The thing is that even the most typical gifts, like Mother's Day flowers, can be made extra special by adding an element of surprise. Here's a few ways you can catch your mom off-guard on the big day and leave them with a huge smile:
Mother's Day Flowers Delivered
The most traditional Mother's Day gift is a bouquet of flowers. You can easily spice up a flower arrangement though by having it surprise delivered anywhere around the city! Surprise your mom at work or at her favorite hang out spots with a gorgeous Houston flower arrangement. Elaine's Florist offers flower delivery services throughout the Houston area. Do not trust an online store; they frequently have too many orders to process resulting in thousands of failed deliveries every year!
Surprise Gift Basket
Spoil your mom or wife with a surprise luxury gift basket. Indulge her with soothing lotions, rich chocolates, even her favorite wines. Elaine's can craft the perfect gift basket for her tastes and also delivery it anywhere within the Houston metro area. You can also pick it up a few days early so that you can present it at the optimal time.
Unexpected Food Date
Whether you prefer cooking your mom a meal or taking her out to a nice brunch, planning a meal for your mom and your family is a fantastic way to spend Mother's Day. The important thing is that you never warn them about who is coming or where you are going. Make sure to make reservations ahead of time or to buy all the ingredients before Sunday. You also want to make sure you pick her up so that she isn't tipped off before she gets to the restaurant. You should also have some flowers waiting on the table! Elaine's can deliver the arrangement directly to the restaurant so that you can make it to your reservation on time.
If you are having family over at your place, make sure you ask them to park around the block so that your mom has no idea anyone else is home when you pull up. She will appreciate how much time and effort you put into coordinating a good meal with the family!
Surprise Movie Tickets
All moms really want to do on Mother's Day is spend time with their family. A great way to shower her you care is by taking her out to see a movie she's been wanting to catch. Make sure to buy tickets ahead of time to avoid any disappointing visits to the theatre.
If your mom isn't a movie type of person, or she has simply seen everything that is out right now, you can also look into plays, the opera, or art exhibitions around town. The MFAH has a fantastic permanent collection and is currently exhibiting a fantastic Impressionist collection along with a collection of John Sargent water colors. Carmen is currently playing and the Houston grand opera as well. Finally, if you are on a budget, you can always go to the Menil Collection, which is always free and is currently home to the Magritte exhibit.
Its not much of a surprise if you have to flat out tell your mom what you plan on doing with her. A clever and fun way to present your gift is to hide the tickets within your Mother's Day flower arrangement. She'll never see it coming and love that you took so much time in planning out a day of fun with her! Plus the flowers will remind her of a special day with you for weeks to come.
Everyone likes a good surprise! If you would prefer to surprise your mom with a Houston gift basket or Mother's Day flowers, call Elaine's at (713) 661-6788 or visit us online at http://elainesflorist.com/.