Boss's Day is around the corner and, whether your supervisor or manager expects a gift or not, its always nice to give someone a gift (not to mention, it can help you come bonus time!). At Elaine's, we specialize in making fun, delicious gift baskets that will keep your boss happy for weeks on end. The big trick though is how to make those gift baskets work appropriate. We've assembled a few themes that may help guide you during your gift basket journey.
Theme 1: Snack Away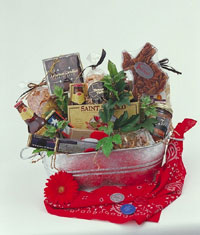 A basket filled with yummy snacks is always a good way to go. Adding a diversity in your snacks basically guarantees that your boss will find something they like. Truffles, chocolates, toffee, assorted nuts, and cookies are all options for those with a sweet tooth. We also can create healthy gift baskets with fresh fruit and nutritious granola mixes. We also carry savory treats, such as cheese and crackers, and Texan salsas.
If you feel like spicing up your Boss's Day gift basket, add a bottle of wine! We generally recommend straying away from hard liquor since it could be taken as unprofessional, but we leave that to your discretion since only you know your relationship with your boss!
Theme 2: Caffeine Dream
Gift baskets stuffed with coffee treats are always a good choice for Boss's Day. These generally come with fine coffee blends from around the world, including Ethiopia, Colombia, and Peru. In addition to the coffee, we add a mug, so that every time your boss drinks from it, he/she will be reminded of your gift
In addition to the coffee, you can add savory treats or biscotti and cookies to dip in your coffee. Is your boss more of a Starbucks type? Add a Starbucks card to the mix!
Theme 3: Relaxation Station
Being in charge is stressful, so why not get your boss a gift basket that helps him/her unwind? Our talented team can assemble the ultimate spa gift basket, with bath salts, calming lotions, soothing soaps, fragrant candles, and whatever else your heart desires.
With so many options to pick from, you will surely have the ultimate Boss's Day gift basket in the office. Drop by our Houston flower shop and we'll help you decide on what type of gift basket is best for your boss's personality type. Order soon so you will have it ready to go by October 16th. Remember, we also deliver throughout the greater Houston area, so you can surprise you office at work, even if your traveling.