Flower arrangements are a professional, elegant way to decorate anything from the front desk to an important corporate event. Over the decades, several large companies have entrusted Elaine's Florist and Gift Baskets to design and deliver their Houston corporate flowers. Below are some of the instances in which we cater to large companies.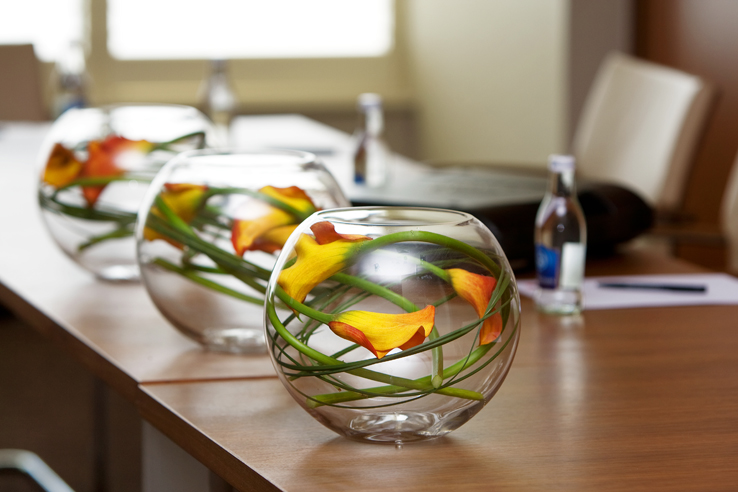 Flowers for Corporate Events
Corporate events include anything from a conference to a meeting. We know that it can be difficult to keep employees engaged in a meeting, presentation, or conference for several hours. Our goal as florists is to design beautiful arrangements that help focus and rejuvenate employees without causing a distraction.
Not only do we arrange the flowers, but we can deliver them directly to your office in the Houston area and help you decide the best location and orientation for them.
Company Parties
Some of the events we have designed arrangements for include Winter Holiday, Anniversary, Spring, Birthday, and New Years parties. All of them are custom designed to fit the decor of your event and your company's personality. We also specialize in gift baskets, which serve as great presents and raffle prizes!
Office Appreciation
It is essential to send the right message when buying flowers for a coworker, manager, boss, or employee. Our experienced florists can help you decide what type of flower arrangement is appropriate for your working relationship. Some of our most common arrangements include those for Nurses' Day, Administrative Professional's Day, and general thank you flowers.
Want to surprise them? Ask us about our surprise delivery service!
Front Desk Decoration
Over the years, we have acquired many customers who need arrangements delivered to their office on a regular basis. We are happy to work with you to design an arrangement and come up with a routine delivery schedule for delivery.
If you are looking for Houston corporate flowers for any of these events or simply to add a bit of cheer to the entrance of your office, please call Elaine's Florist and Gift Baskets at (713) 661-6788.