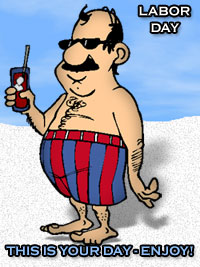 Labor Day always falls on the first Monday of September and is coupled with a much needed day off. Celebrate the end of summer and a day with the family with bright Labor Day flowers from your local Houston flower shop — Elaine's Florist & Gift Baskets. There are multiple reasons to get an original flower arrangement for this holiday!
Labor Day Party Decorations
Flowers are the ultimate decorations. They can be used as centerpieces or simply be sprinkled around the common area to liven up the mood. Our Labor Day arrangements can come with special festive decorations, such as flags and whirligigs, adding to the theme of your party!
Surprise Someone
Do you know someone that works particularly hard? Show how much you appreciate their work ethic by surprising them with a flower arrangement. After all, that is what Labor Day is all about!
Make Someone Smile
Some people do not get Labor Day off. While you can't tell them to leave work, you can cheer them up with a flower arrangement or a delicious give basket! Just knowing that you were thinking of your friend will make he or she smile.
Enjoying Summer Flowers While They Are Here
Although you wouldn't know it from the heat, autumn officially begins just three weeks after Labor Day. With Summer goes its beautiful, vibrant flowers. Our Labor Day flower arrangements are made with the season's favorite flowers, including tropical flowers.
There are simply too many reasons to get a Labor Day flower arrangement. Just remember that we like to enjoy our day off too so call ahead to order your Labor Day flowers!