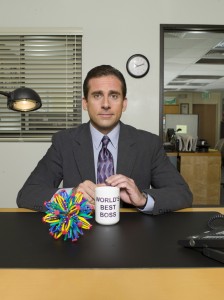 Boss's Day is around the corner (October 16th… aren't you glad we reminded you?) and there is no better way to leave a good impression than surprising your supervisor with a little something. The hard part is picking an appropriate, yet friendly gift. Aside from getting flowers for Boss's Day, you have a wealth of gifts to select from to show how much you appreciate your superior!!
Gift Cards
A gift card is a fantastic way to get your boss something he truly wants. Some may say that gift cards are a bit impersonal, but that is not the case if it is done correctly. Always write a personalized card and slip the gift card in it. It is also important to get them a gift card to a place you know they enjoy. If your boss loves skiing, get him/her a gift card to a winter sports supply store. If they love vinyl, get them a gift card to a record shop. Many restaurants also offer gift cards.
Gift Baskets
Sweets, chocolates, lotions, coffees… gift baskets can come equipped with whatever goodies you like. They are a delicious way of perking up someone's day and the treats from your basket can last them weeks! Here at Elaine's, we deliver gift baskets throughout Houston, so you can truly surprise your boss, even if you called in sick!!
Flowers for Boss's Day
A beautiful flower arrangement is a timeless gift that always brings a smile. We specialize in flower arrangements for corporate events, so we know how to make vibrant arrangements that light up the office. When it comes to ordering flowers for your boss, it is important to keep workplace standards in mind. Roses can be misconstrued to indicate intimacy, so we recommend straying from rose arrangements. Orchids and arrangements in mugs are always a boss pleaser!
Cards
Never underestimate the power of a good old fashioned card. Make sure to get the whole office to sign it!! It means a lot to have the whole crew recognize their efforts.
Call Elaine's Florist & Gift Baskets to learn more about how you can customize your gift baskets and flowers for Boss's Day.